API DRILLING JAR FOR OILFIELD
Views: 2 Author: Site Editor Publish Time: 2020-05-11 Origin: Site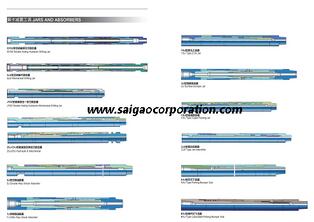 API DRILLING JAR FOR OILFIELD
QJ—K type drilling jar while drilling is a fully mechanical jar with integrated upper and lower strikes. It has the advantages of simple structure, short length, convenient maintenance and disassembly.
Zh
QJ-A type drilling jar while drilling is also a kind of all-mechanical jar. Its structural features are that the release force can be adjusted on-site, the setting is accurate, and it is easy to disassemble and assemble, which is suitable for drilling while working under various circumstances.
Zh
QY—A type drilling jar while drilling is a fully hydraulic type drilling jar while drilling with upper and lower strikes. It has many advantages such as simple operation, large shock force, convenient adjustment, high connection strength, stable performance, safety and reliability, and easy maintenance.
This product does not cause false shocks when drilling, drilling, receiving a single or touching the bottom of the well, and its hydraulic delay allows the operator to dynamically adjust the size of the upper and lower strike force.
Fully sealed oil bath lubrication helps reduce wear and increase service life. In addition. Its position in the drill string assembly is relatively free, and it can be placed in various positions such as tension, neutral point, and compression. It can meet the needs of drilling operations under various operating conditions such as land and sea.we api drilling jar for oilfield wholesale,you can know it.
Customer for the purpose, to satisfy every customer's pre-sales and after-sales service needs
Market-oriented, seeking and respecting every reality and potential customer
Factory management as the core, increase sales and market share and coverage
The new development is based on the standardization, serialization of the perfect design, product technology and continuous innovation.