China drilling rigs of oil
Views: 2 Author: Site Editor Publish Time: 2020-06-30 Origin: Site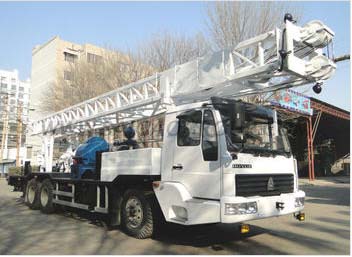 Track type multipurpose water well drill rig, all new designed, high efficiency and multipurpose hydraulic drill rig, mainly for drilling water wells, inspection wells and geothermal air vent wells, etc.
Product Features
◆ High premium configuration widely used in various well drilling applications. Combined with best features from domestic and international products and key hydraulic components, all global famous brands to ensure reliability, and the leading top class water well drill rig in China.
◆ Hoist and which capable to lift drill tools and accessories up to 1500kg, reducing workload of operators.
◆ Tramming motor with larger torque for free and fast moving between different work condition sites.
◆ Feeding and lifting with fast and low speed for higher drilling efficiency, high torque rotation unit with two speed adjustable for different hole ranges and rock conditions.
our company as a drilling rigs of oil Supplier in China ,if you need that pls contact us.