F350 Mud Pump Manufacturer
Views: 1 Author: Site Editor Publish Time: 2020-04-23 Origin: Site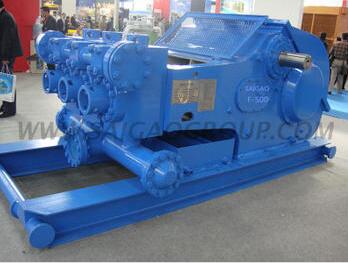 F350 Mud Pump Manufacturer
MUD PUMP
Mud Pump is used to circulate drilling fluid while drilling. It is the heart part of drilling fluid circulation system, and it is composed of Power End and Fluid End.
Our products conform to API Spec 7k, and acquired the authorization to use Official API Monogram.
F Series mud pump: F-500~F2200 with different power Mud pumps are single horzontal triplex piston pumps, in the deep and ultra-deep wells, the drilling process cycle of drilling fluid, cleaning the bottom of the well to carry cuttings, cooling and lubricationg bits and reinforced sidewall, used in conjunction with high pressure water jet bit rock crusher help improve drilling speed; Meanwhile, it can also provide a mobile drilling mud pit as a driving force. We supply qualified Mud pump as below. If you have any interest, welcome to contact with me!
Mud pump Ceramic Liners
We can also manufactures supply other types of ceramic liners,such as 3NB500、3NB1300C、A1700PT、14P220 and so on.The ceramic liners we produce are used in all of the world mud pumps,such as Baoshi Pump,Lanshi Pump,and EMSCO、FMC NATIONAL、OILWELL、IDECO和GARDNER-DENVER and so on. We can also produce according to the customer drawings.
5NB 600 MUD PUMP
5NB 600 Mud Pump is the latest development of various types of mud pump. It adopts the split type pump hydraulic end disassembly is convenient.
5NB 600 Mud Pump is horizontal four cylinder reciprocating single acting piston pump.
we F350 mud pump manufacturer,you can know it.