high quality oil fishing fools
Views: 2 Author: Site Editor Publish Time: 2020-04-11 Origin: Site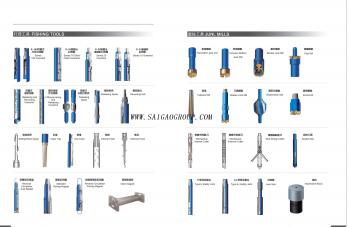 Fishing tools and crafts

During drilling and completion and workover operations, drill rods, drill collars, casings, tubing strings are stuck or broken, drill bit cones are dropped, logging tools or cables are stuck, cable wire ropes are broken, packers are broken Interruption of normal drilling, workover, and completion operations due to stuck, sand, serious leaks, well collapse, blowout, etc., need to use fishing tools or take special measures to remove leaks, collapse, stuck, spray to resume normal operations. The operation and process of removing leaks, collapses, jams, and sprays is called "fishing."
Practical experience tells us that salvage operations are inevitable. According to past statistics in China, there may be one for every five wells, and for every five wells repaired, four wells may need to be salvaged. Therefore, it is necessary to prepare common fishing tools and understand the common fishing techniques.
Fishing operation
1.Connect the fishing cylinder to the fishing column. The tongs must not be caught on the cylinder to avoid damaging the cylinder. The tightening torque is equal to the fishing column.
2.Fishing to 0.3 ~ 0.5m from the fish top to open the pump cycle, and flush the sediment around the fish top.
3.Stop the circulation and slowly rotate the lower fishing rod to introduce the falling fish into the fishing rod. If the jumping phenomenon occurs, the cause should be analyzed and measures taken, or it can be lifted by lifting the fishing column.
4.It is estimated that the falling fish enters the fishing bucket, that is, the rotation is stopped and a certain axial pressure is applied to make the falling fish enter the slip.
we provide high quality oil fishing fools,you can know it.