wellhead equipments—casing head
Views: 2 Author: Site Editor Publish Time: 2020-04-08 Origin: Site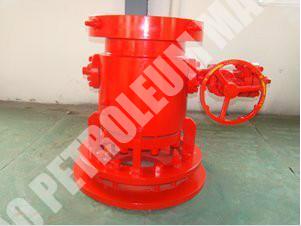 CASING HEAD

Product Description
C-22 Casing Head
◆Casing Head
Casing head and casing spool adopt standard design, and can be applied to all kinds of slip and mandrel type casing hanger.
◆Straight-Bore Design 45°
Straight-bore is designed with 45°shoulder of high load capacity.
◆Side Outlet Connection
Pipeline thread side outlet, studded flange side outlet, are designed with VR plug.
◆Secondary Sealing Design
Secondary sealing design with multi-structure secondary seals at bottom for clients to choose. Installation can be performed on spot per different structure types, injection or non-injection can achieve seal.
◆Interchangeability of Casing Hanger
Interchangeability of Casing Hanger design with standard profile interchangeability between slip casing hanger and mandrel type casing hanger.
SLAB GATE VALVE
Product Description
Slab Gate Valve
• Full bore design can efficiently solve the problem of pressure drop and vortex,and slows down the process of erosion resulting from the solid particles in the fluid.
• Mental-to-mental seal is used between bonnet and body, gate and seat, body and seat.
• The surface of gate and seat is overlaid with hard alloy makes the valve with high performance of anti-corrosion and anti-wear.
• This kind of valve is designed with balancing stem, with which can balance stem load, also, reduce the load of stem thread and bearing to lower the operating torque.
• The stem designed with back seal construction, can easily replace stem seal ring under pressure.
• One side of bonnet is designed with injection valve in order to replenish sealing grease, moreover, to improve seal and lubrication performance of gate and seat.
we are wellhead equipments China supplier provide wellhead equipments distributor,you can know it.